Credit Card
Carry the convenience of a DCFCU VISA® Gold Card. The only card you need to carry! Our card will save you money and time while bringing you the worldwide convenience and security of VISA®.
Your card includes the EMV Chip, a feature that provides an added layer of security and greater protection against fraud. Your chip card will also make traveling easier and more convenient with its world-wide acceptance.
Rate as low as 10.99% APR (periodic rate .030110%)**:
VISA Benefits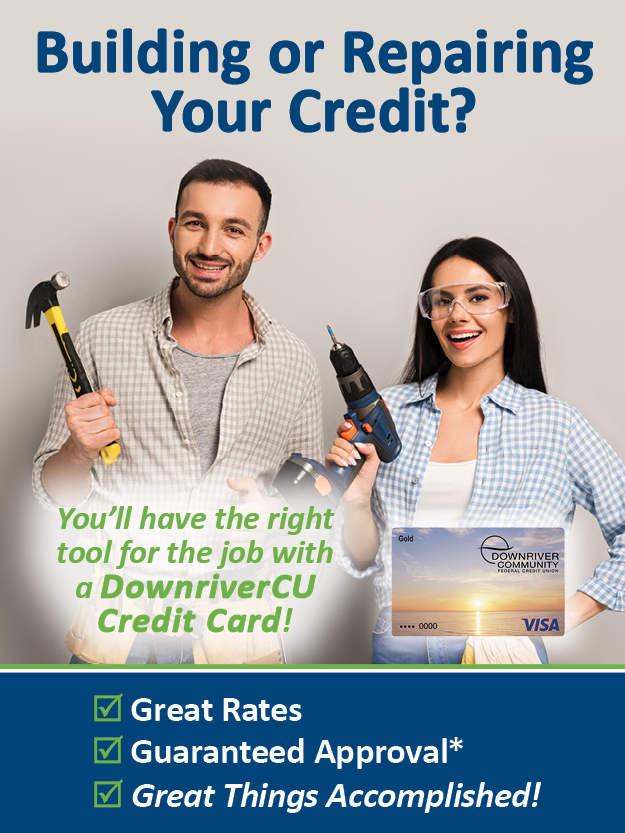 Here are a few benefits you will receive as a DCFCU Visa® Gold Card holder:
Low, fixed interest rate.
No annual fee
25-day grace period on purchases

Save Money With Our Great Rates
Our card offer rates as low as 10.99%* and other great money-saving features like no annual fees.
Save Time With Convenient Access
A Downriver Community VISA® can save you time and hassle with convenient ways to use your card including:
24-hour nationwide ATM access
Automatically pay your VISA bill every month by telling Downriver Community what you want to pay and when you want to pay it.
Transfer Your Balances And Save Money
If you carry balances on credit cards from other financial institutions, you may be paying Annual Percentage Rates of 20% or more. You can save money and simplify your finances by transferring those expiring introductory rate balances to a lower fixed rate Downriver Community VISA® Card.
Apply now for a VISA® Gold credit card.
* APR refers to Annual Percentage Rate. Rate as of 12/4/2023. * Your individual rate (APR) will be determined based on your credit score. * Approval Guarantee for new members and members in good standing. Some exclusions may apply where legally prohibited. Interest rate and approval amount based on income and credit history.
**Method of calculating balance on purchases: Average Daily Balance, including new purchases, and Late Payment fee of 20% of the payment amount if 15 days late.
Go to main navigation