Auto Loans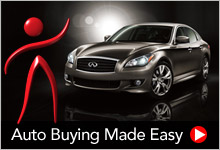 We're helping our members go places! Not only do we help you with financing for your vehicle, but we also help you in your search for a vehicle.
Save time with our convenient Pre-Approval.
Save money with our great loan rates.
Save gas with our online search of local dealers.
We provide a variety of resources both online and through our partnership with local dealers. You can rely on us to help you search, compare, and finance your next new or used vehicle!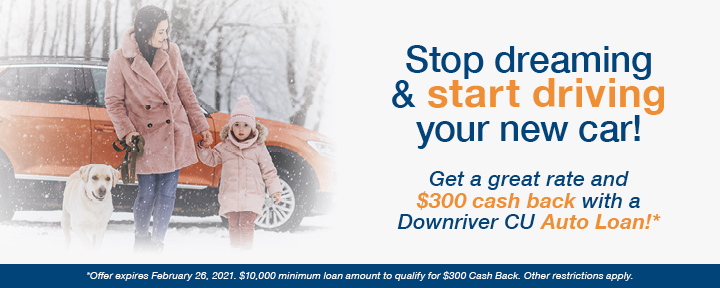 Are you currently driving a nightmare of a vehicle? If so, stop dreaming about getting a new car, and start driving it!
For a limited time, you can take advantage of our low auto loan rates and get $300 cash back* when you purchase or refinance a vehicle with a Downriver CU Auto Loan! That's not all! If you're refinancing a loan with another lender, you'll get our Auto Refi Rate Match*, which means that you'll get the lower of our rate, or the rate on the Note you're paying off with the refinance!
Don't have a car in mind yet? That's okay, because you can get pre-approved now for a car that you find later. This makes the car buying process simple and stress-free!
To get started, you can apply online today or just contact a Member Services Representative at 313-386-2200 during normal business hours.
*This offer expires February 26, 2021 has been extended to March 31, 2021, and there is a $10,000 minimum loan amount to qualify for the $300 Cash Back offer. A rate floor of 3.00% applies for the Auto Refi Rate Match. Other restrictions may apply.
New & Used Vehicles
Our Member Satisfaction Specialists will be happy to help you with the financing for your next new or used vehicle.
Our Vehicle Loans Offer:
Low rates
A variety of terms
Convenient pre-approval
Online, phone or in-branch applications
Optional GAP coverage
Optional Mechanical Breakdown coverage

After-The-Sale Refinancing
Did you purchase a new vehicle within the last 12 months and finance it elsewhere? If your answer is yes, then we have a special offer for you! Refinancing is a great way to save money by lowering your payments and better yet, we will give you our current new vehicle rate. Call a Member Satisfaction Specialist today for more details.

Go to main navigation