Grow Your Business Series
Downriver CU is committed to helping our members increase their knowledge so that they can achieve success in both their individual and business lives. Our Grow Your Business Series was started back in February 2008 as a way to help people grow their business in the face of a challenging economic environment. This series features a variety of topics, presented by local, national, and international personal and business growth experts each month.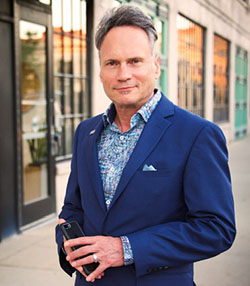 With so many things competing for our attention, it has become increasingly difficult to gain the attention of our prospective customer. Don't miss this special 200th workshop in the Grow Your Business Series as we welcome returning special guest speaker, Michael Angelo Caruso as he presents the crucial topic of "Getting Attention in a Noisy World." This will be a fun and engaging workshop where you will learn how to leverage the psychology of attention, improve your value proposition, increase engagement with easy personalization tricks, use effective social media hacks, and become a recognized expert in your industry. Space will be limited for this special event, so RSVP today!
About Michael Angelo Caruso: Michael teaches presentation skills. His keynotes are a combination of your best teacher and your favorite comedian. Michael gets fast results with clients on six continents and in 49 of the 50 states. He's worked with Hallmark, Bank of America, Verizon Wireless, Rayovac, Citgo, Nissan, and the United States Navy. Michael is author of Work Hacks and Dear Michael Angelo--A Father's Life Letters to His Son. He also has a highly-rated speaker coaching class entitled, Present Like a Pro. Michael is a lifetime Rotarian and enjoys exercise, movies, non-fiction books, and travel.
Date:

Wednesday, May 18, 2022

Location:

Downriver Community Federal Credit Union
(enter through Community Room entrance at rear of building)
15261 Trenton Road
Southgate, MI 48195

Time:

8:00 a.m. Registration and Breakfast.
8:20 a.m. to 10:00 a.m. Introductions and Workshop

Speaker:

Michael Angelo Caruso - Author, Speaker, Coach (www.MichaelAngeloCaruso.com)

Registration:

$5.00 includes breakfast, networking, and workshop
(FREE for DCFCU Members--use code "dcfcu")

UPCOMING EVENTS AND WORKSHOPS:
Did you miss one of our recent Grow Your Business Workshops? You can watch it here!
Go to main navigation