Workshops & Events
Learn & GROW WORKSHOP SERIES.
DCFCU is committed to helping our members increase their knowledge so that they can achieve success in both their individual and business lives. Our Grow Your Business Series was started back in February 2008 as a way to help people grow their business in the face of a challenging economic environment. This series features a variety of topics, presented by local, national, and international personal and business growth experts each month.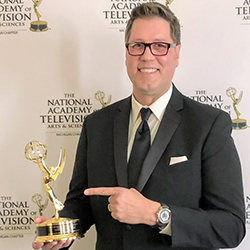 Our 2021 Grow Your Business Series continues with a special workshop on the topic of "Face Change Like a Champion!" presented by Kurt A. David, Author, TV Show Host/Producer, Owner of Glory Days Productions, and Co-Founder of PurposePoint.com.
We all face change and we all experience a variety of challenges with change. Our speaker, Kurt David, will teach you the five keys for navigating sudden change that he discovered following his life as a professional basketball player. These 5 R.U.L.E.S., as he calls them, propelled Kurt like rocket fuel into the next successful phases of his life and he has re-created these successes into immediately applicable principles that have been used by hundreds of companies world-wide.
About Kurt A. David: Kurt is the creator and host of the Emmy Award Winning TV show and best-selling book, "From Glory Days" which interviews Hall of Fame and World Champion former professional athletes about their successful transition into life after pro sports. He is an Emmy Award Winning TV Show Host/Producer; Acclaimed Author of two books; owner of Glory Days Productions which creates television shows and movies; Co-Founder of PurposePoint.com which is a professional development organization that inspires individual and organizational Purpose; and Board of Director of a $300+ million credit union.
Kurt has presented these 5 R.U.L.E.S. to hundreds of companies including the leadership of AMCOR (world's largest packaging company), MORPACE (international marketing company), BLUE CROSS/BLUE SHIELD (insurance company in 190 countries), doctors, attorneys, financial institutions, governmental agencies, military, and many more. The results of sharing this knowledge included, healthier leader relations, improved productivity, an engaged workforce, swifter transition, and improved morale. Despite an extremely busy schedule, Kurt believes it is important to give back and does so by volunteering his time and resources to numerous local, national, and international charities.
For those who are unable to attend in-person, this will be a "hybrid" workshop (both IN-PERSON and ONLINE). Masks for In-person attendance is encouraged, but not required. Please be sure to specify your attendance choice on the Registration Form. RSVP today to participate!
Date:

Wednesday, September 15, 2021

Location:

Downriver Community Federal Credit Union
(enter through Community Room entrance at rear of building) 15261 Trenton Road
Southgate, MI 48195

This meeting will be held both ONLINE and IN-PERSON (please specify which on the Registration Form)

Time:

8:00 a.m. Registration and Breakfast (for those attending in-person)
8:30 a.m. to 10:00 a.m. Introductions and Workshop (Online attendees should log in by 8:25 a.m. so we can start on time)

Speaker:

Kurt A. David - Author, TV Show Host/Producer, Owner of Glory Days Productions, and Co-Founder of PurposePoint.com

Registration:

$5.00 includes breakfast (in-person only), networking, and workshop
(FREE for DCFCU Members--use code "dcfcu")

UPCOMING EVENTS AND WORKSHOPS:
Learn & Grow Workshops
Did you miss one of our recent Grow Your Business Workshops? You can watch it here!
Go to main navigation