Workshops & Events
Learn & GROW WORKSHOP SERIES.
DCFCU is committed to helping our members increase their knowledge so that they can achieve success in both their individual and business lives. These workshops were started as a part of our Grow Your Business Workshop Series back in February 2008 as a way to help people grow their business in the face of a challenging economic environment. This series features a variety of topics, presented by local, national, and international personal and business growth experts each month.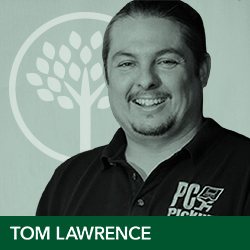 Our next workshop in the 2019 Grow Your Business Series will be a cutting-edge presentation given by Tom Lawrence (IT Expert, Technology "Early Adopter", and Owner of Lawrence Technology Services) on the topic of "Protecting the Digital YOU"

The internet has given us greater accessibility to information than ever before but with this has come the need to remember so many passwords to a variety of sites that we use every day. As computers and smartphones have continued to advance, we are producing an ever-increasing amount of valuable data. From documents to photos, keeping this information safe not only means keeping it secure, but keeping it backed up. Protecting the Digital You is about learning some easy-to-follow processes that will help keep you and your information safe in the online world. We will be covering password management, computer backups, and how to avoid online scams by know where not to click. Space is limited so RSVP today!
Date:

Wednesday, October 16, 2019

Location:

The Guidance Center's "Center For Excellence" Hall
13111 Allen Rd., Bldg. #2
Southgate, MI 48195

Time:

8:00 a.m. to 10:00 a.m.

Speaker:

Tom Lawrence--IT Expert, Technology "Early Adopter", and Owner of Lawrence Technology Services
www.lawrencesystems.com

Registration:

Only $5.00! Registration includes continental breakfast, networking, and workshop (FREE for members of Downriver Community Federal Credit Union--use code "dcfcu")

UPCOMING EVENTS AND WORKSHOPS:

Learn & Grow Workshops
Go to main navigation