Workshops & Events
Learn & GROW WORKSHOP SERIES.
DCFCU is committed to helping our members increase their knowledge so that they can achieve success in both their individual and business lives. Our Grow Your Business Series was started back in February 2008 as a way to help people grow their business in the face of a challenging economic environment. This series features a variety of topics, presented by local, national, and international personal and business growth experts each month.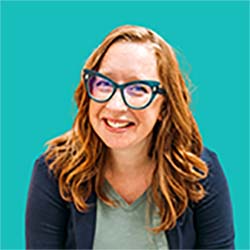 Our last workshop in the 2021 Grow Your Business Series will be on the topic of "Reimagine Your Email Marketing" by Emily McGuire, CRM & Email Marketing Consultant and Founder of Flourish & Grit.
Email newsletters are sooo 2008. They're long, time-consuming, and low converting. The digital world has long evolved past them, but they still dominate email marketing. Your subscribers deserve more than a long list of articles without much focus. Your marketing revenue deserves better too. In this workshop, we'll walk through how to re-imagine your email marketing so that it guides your subscribers from your email list to your customer list. After this session, you'll be able to apply a framework for developing high-converting emails, gain clear insights on how to structure your email layout, use tools for reaching your marketing goals, and turn subscribers into customers.
Meet Emily McGuire: Emily is the Founder of Flourish & Grit, an email marketing agency that builds and retains customer relationships at scale. With lessons learned over a decade in tech, sending thousands of email campaigns, and earning clients over $80 million in email campaign revenue, Emily loves sharing the mistakes and strategies of email marketing done well. You'll typically find her with a cup of coffee in hand because #momlife. When her head isn't in her laptop, you can find her chasing her kid, reading a book, or binging trashy TV.
Date:

Wednesday, December 15, 2021

Location:

Downriver Community Federal Credit Union
(enter through Community Room entrance at rear of building) 15261 Trenton Road
Southgate, MI 48195

Time:

8:00 a.m. Registration and Breakfast
8:30 a.m. to 10:00 a.m. Introductions and Workshop

Speaker:

Emily McGuire - CRM & Marketing Consultant and Founder of Flourish & Grit (www.flourishgrit.com)

Registration:

$5.00 includes breakfast, networking, and workshop
(FREE for DCFCU Members--use code "dcfcu")

UPCOMING EVENTS AND WORKSHOPS:
Did you miss one of our recent Grow Your Business Workshops? You can watch it here!
Go to main navigation