Workshops & Events
Learn & GROW WORKSHOP SERIES.
DCFCU is committed to helping our members increase their knowledge so that they can achieve success in both their individual and business lives. These workshops were started as a part of our Grow Your Business Workshop Series back in February 2008 as a way to help people grow their business in the face of a challenging economic environment. This series features a variety of topics, presented by local, national, and international personal and business growth experts each month.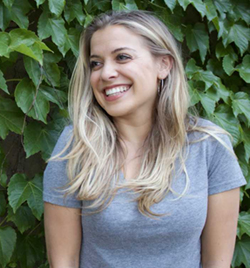 Our next workshop in the 2018 Grow Your Business Workshop Series will be on the topic of "Four Simple Steps to Sell Effortlessly" by Hailey Yatros, an Author, Keynote Speaker, and Millenial Life Coach.
Does selling frustrate you? Scare you? Stress you out? It doesn't have to! Most of the time when we sell, we think we have to be someone else, or fancy up our language so that people are enticed to buy, but that's not the case at all. In this workshop you will learn the four distinct qualities that every successful business owner possesses that you can easily apply right now. Growing your business should be fun, eff ortless and simple! If you interact with people, YOU ARE SELLING...the only question is, are you someone they would want to buy from? Space is limited so RSVP today!
Date:

Wednesday, October 17, 2018

Location:

The Guidance Center's "Center For Excellence" Hall
13111 Allen Rd., Bldg. #2
Southgate, MI 48195

Time:

8:00 a.m. to 10:00 a.m.

Speaker:

Hailey Yatros--Author, Keynote Speaker, and Millenial Life Coach
www.haileyyatros.com

Registration:

Only $5.00! Registration includes continental breakfast, networking, and workshop (FREE for members of Downriver Community Federal Credit Union--use code "dcfcu")

UPCOMING EVENTS AND WORKSHOPS:
Learn & Grow Workshops
Go to main navigation