Credit Card
Carry the convenience of a DCFCU VISA® Gold Card. The only card you need to carry! Our card will save you money and time while bringing you the worldwide convenience and security of VISA®.
Your card includes the EMV Chip, a feature that provides an added layer of security and greater protection against fraud. Your chip card will also make traveling easier and more convenient with its world-wide acceptance.
Rate as low as 10.99% APR (periodic rate .030110%)**:
Downriver CU CardManager
As a member, you can protect your Debit and Credit Cards from fraud and theft by using our FREE CardManager App right from your smartphone!
Card usage controls: Spending limits can be established to allow transactions up to a certain dollar value and decline transactions when amounts exceed pre-defined thresholds. Transactions can also be monitored or controlled for specific merchant categories such as gas, hotel, travel, restaurants, groceries or electronic stores
Card on/off setting: When the card is "on," transactions are allowed in accordance with each cardholder's usage control settings. When the card is "off," no purchases or withdrawals are approved until the card is turned back "on." This control can be used to disable a lost or stolen card
Location-based controls: The My Location control can restrict transactions to merchants located within a certain range of each cardholder's location (using the phone's GPS); transactions requested outside of the specified range can be declined
Interactive alerts: CardManager can send a real-time alert when a card is used, when a transaction is approved and exceeds any of the permitted use policies, or when a card transaction has been attempted but is declined.
Financial features: CardManager also enables cardholders to conduct limited card-related transactions wherever they are, any time of the day, including balance inquiries and locating ATMs
To download the app, please visit the Google Play or App Store and search for "CardManager". You may also watch the following video to learn more: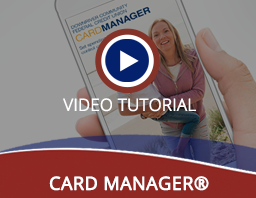 Go to main navigation