It's our 75th Year Anniversary!
Downriver Community Federal Credit Union was organized on January 29, 1942, and we will be celebrating our 75th Year Anniversary throughout the entire 2017 calendar year!
Our members are the foundation of our success and we want to take this occasion to thank you for helping us reach this important milestone!
We will have a variety of activities which will include prizes, giveaways, and special promotions to celebrate this exciting time in our credit union's history and to show our members our appreciation!
Be sure to stay up-to-date on all our 75th Anniversary events by signing up for our e-newsletter and by following us on Facebook. Please check back often as we will be using this page to keep our members up-to-date on all the festivities involved in celebrating this special occasion!
To learn more about the history of the credit union, please visit our About Downriver page.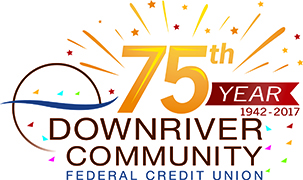 Go to main navigation